18 DECEMBER 2020 | KLEDINGSWAP – PARTY EDITION
LET'S NOT BUY NEW, BUT BE SUSTAINABLE DURING THE HOLIDAYS! THE EARTH NEEDS US 

Kom je feest outfit swappen tijdens onze swap party edition! Meer info volgt..
Verzamel nu al je kleding bij elkaar en doe zeker mee 
Ook tijdens deze editie zijn de regels iets aangepast i.v.m. COVID-19

HOE WERKT EEN KLEDINGSWAP BIJ NAAIERIJ?
Koop een ticket (hiervoor krijg je kleding die er mooi uit ziet, gesorteerd is en we maken er een mini feestje van)Lever je kleding op dinsdag, woensdag of donderdag voor de kledingswap in (Kun je niet op deze dagen? Dan kunnen we altijd even een afspraak maken!)Lever 5 of meer kledingstukken in. Zo kunnen we ervoor zorgen dat iedereen met genoeg stukken naar huis gaat.Neem alleen kleding mee die schoon en netjes is en die je zelf nog echt leuk vindt, maar niet meer draagt. Kleding waarvan je zelf denkt dat anderen hier blij mee zullen zijn. We controleren alle kleding wanneer je je tas inlevert.Onder kleding verstaan wij: broeken, t-shirts, vesten, truien, jassen, blouses (dus geen: sokken, onderbroeken, sokken, bikini's, bh's, u know what we mean). Heb je al 5 stuks kleding, dan mag je extra altijd nog bikini's, sieraden of schoenen inleveren.Bij het inleveren van je kleding krijg je een strippenkaart. Met deze strippenkaart kun je maximaal 5 stuks meenemen. De strippenkaart laat je stempelen bij de kassa voordat je weggaat. Heb je minder dan 5 stuks meegenomen naar huis? Dan kun je de stempelkaart bij onze volgende kledingswap weer gebruiken!In totaal hebben we 9 tijd slots van allemaal een uur. Zo kunnen we ervoor zorgen dat er niet teveel mensen tegelijk binnen zijn en we ons kunnen houden aan de COVID-19 richtlijnen. Natuurlijk hangen we bij elke ronde weer nieuwe items op, zodat niet de eerste groep al de goodies krijgen.
De tijd slots zijn;
1 – 13.15u – 14.00u
2 – 14.00u – 14.45u
3 – 14.45u – 15.30u
4 – 15.30u – 16.15u
5 – 16.15u – 17.00u
6 – 17.00u – 17.45u
7 – 17.45u – 18.30u
8 – 18.30u – 19.15u
9 – 19.15u – 20.00u
Nadat je een ticket hebt gekocht krijg je een bevestigingsmail, waarin je je kunt aanmelden voor een bepaald tijdsslot. Iedereen moet zich apart aanmelden voor een tijdsslot, dus je kunt niet in de opmerkingen iemand aanmelden.We gaan door tot 20u. Daarna verzamelen wij de overgebleven kleding en deze worden gedoneerd aan een goed doel, zodat ook deze kleding een mooie bestemming krijgt. Ook kijken we of we een deel van de kleding nog kunnen ophangen aan ons permanente Swaprek of kunnen Upcyclen
BELANGRIJK!
Koop een kaartje! Onze vorige swaps waren helemaal uitverkocht, dus be quick!
TICKETLINK: https://www.eventbrite.nl/e/tickets-naaierij-kledingswap-party-edition-129301148215

Lever de week van tevoren je kleding in
Meld je aan voor een tijd slot!
Je krijgt een mail als je een kaartje hebt besteld en daarin staat de link om je in te schrijven.
Adres: Boekhorststraat 161 in Den Haag
Het event is voor iedereen!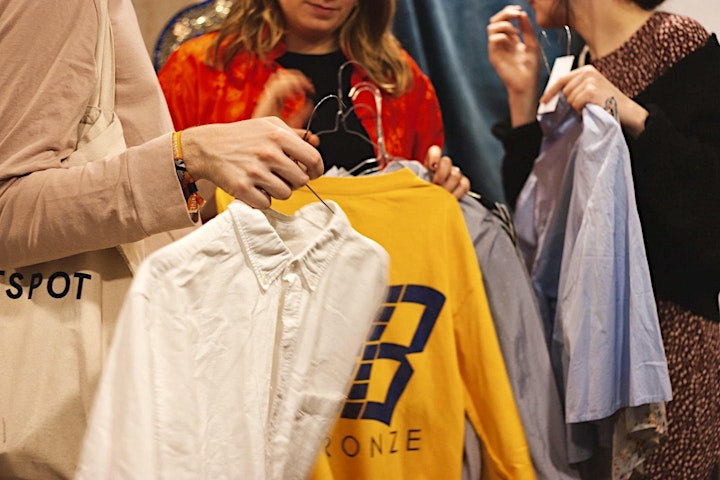 The day that all stores give huge discounts, just to persuade you to buy more. Stuff and clothing that you may or may not need. Just because it's cheaper, you want more and more. While you can also buy second hand clothes. Just as fun, better for the environment, awesome! That is why, just like last year, we are organizing a small, cozy clothing swap as a counter-movement to Black Friday. Swap at Naaierij and you will go home with beautiful items, but in a sustainable way.
So, do you still have clothes that you no longer wear? Be sure to participate!
During this edition, the rules have also been slightly adjusted because of COVID-19
HOW DOES A CLOTHING SWAP AT NAAIERIJ WORK?
Buy a ticket (includes neat, sorted clothes that look nice and we make it a mini party)Hand in your clothes on Tuesday, Wednesday or Thursday before the clothing swap event (If you cannot do this on these days, we can always make an appointment!)Turn in 5 or more items of clothing. This way we can ensure that everyone goes home with enough pieces.Only bring clothes that are clean and tidy and that you really like, but no longer wear. We check all clothing when you hand in your bag with clothing.By clothing we mean: pants, t-shirts, cardigans, sweaters, jackets, blouses (so no: socks, underpants, socks, bikinis, bras, you know what we mean). If you already have 5 pieces of clothing, you can always add bikinis, jewelry or shoes as extra pieces.You will receive a stamp card when you hand in your clothing. With this card you can take a maximum of 5 pieces with you. The card can be stamped at the cash register before you leave. Did you take less than 5 pieces home? Then you can use the stamp card again at our next clothing swap!In total we have 5 time slots of one hour each. This way we can ensure that there are not too many people inside at the same time and we can adhere to the COVID-19 guidelines. Of course we hang up new items with every round, so that not the first group gets all the goodies.
The time slots are;
1 – 13.15u – 14.00u
2 – 14.00u – 14.45u
3 – 14.45u – 15.30u
4 – 15.30u – 16.15u
5 – 16.15u – 17.00u
6 – 17.00u – 17.45u
7 – 17.45u – 18.30u
8 – 18.30u – 19.15u
9 – 19.15u – 20.00u
After you have bought a ticket you will receive a confirmation email, in which you can register for a specific time slot. Everyone has to sign up separately for a time slot, so you can't sign someone up in the comments.We continue until 8 pm. Then we collect the remaining clothes and these are donated to charity, so that these clothes also get a nice destination. We are also looking at, whether we can still hang some of the clothing at our permanent Swap rack or upcycle it.
IMPORTANT!
Buy a ticket!
Our previous swaps were completely sold out, so be quick!
TICKETLINK: https://www.eventbrite.nl/e/tickets-naaierij-kledingswap-party-edition-129301148215
Hand in your clothes in advanceSign up for a time slot
Adres: Boekhorststraat 161 in Den Haag
The event is for everyone!